The leader of Hong Kong, Carrie Lam, said this week that a controversial extradition bill was "dead".
The comments provided much relief for businesses concerned about the fall-out from proposed changes to allow for extraditions to mainland China.
They had worried these changes would hurt the very autonomy that has made Hong Kong into one of Asia's most important financial hubs.
But protesters remain unconvinced and want to see the extradition bill formally withdrawn.
A stand-off between the government and protesters is thus likely to continue, posing a fresh risk to Hong Kong's international reputation as an attractive place to do business.
"There's an eerie sense that the government and protesters have a large space between them," Tara Joseph, president of the American Chamber of Commerce in Hong Kong, told me.
"The local economy is feeling the pinch of the US-China trade war – protests are an extra layer. It's really important that there's some conclusion to this."
Indeed, there are already signs that people are getting nervous in Asia's oldest financial hub.
People, money exodus?
Anecdotal evidence shows that the wealthy in Hong Kong are already considering their options.
"I've definitely seen a spike in inquiries from high-net-worth individuals in Hong Kong looking to secure residency rights or citizenship elsewhere in the world," David Lesperance, an immigration lawyer, told me.
Mr Lesperance says those high-net-worth individuals in Hong Kong had been worried for some time.
But the recent controversy surrounding the extradition bill, and the subsequent protests and storming of the legislative council, have really prompted action, he said.
"People will be strengthening up their back-up plans with the acquisition of citizenship, either by investment or naturalization," Mr Lesperance says.
"I can confirm this is definitely happening."
Private banking clients are also making inquiries about moving accounts to Singapore and some private bankers told me a record number are already doing so.
Others, however, say only a small percentage of their clients are worried.
Some in the business community say the risk premium of operating in Hong Kong has also already gone up.
Some companies are reportedly actively exploring moving their headquarters elsewhere, they say, although there is no official evidence of that yet.
Extradition bill
Given that the bill is just "dead" and has not yet been formally withdrawn, experts expect protests to continue.
Marches are already being planned for the coming weeks and protesters say they will not stop until all their demands are met.
But lawyers are confident the controversial extradition bill will never see the light of day.
"It seems to be about saving face for Carrie Lam and avoiding being seen to give in to protesters' demands. That's why she didn't use the word 'withdraw'," says Antony Dapiran, a Hong Kong-based lawyer and author of the book City of Protest.
"There's no secret plan to reintroduce the bill. Not least because the pro-Beijing political parties who technically need to pass it in parliament are extremely annoyed by what's happened. There's no political will to push this through."
Bad for business
Still, the street protests are expected to continue and these are already having an impact on business in the city.
"Tourism is down 5-10% so far [since the protests began]," Allan Zeman, a Hong Kong businessman and founder of Hong Kong's popular nightlife district Lan Kwai Fong, told me.
"Retail is down, many of the retail shops where protesters have been had to close down. Business is destabilized."
But the long-term fall-out could be limited.
Previous, similarly big protests had no major lasting impact on the economy, said Mr Zeman.
"We had Occupy Central for 79 days in Hong Kong and this city recovered and bounced back," he told me.
"What this is really about is social problems – housing and how to bring prices down. If your life is good, then you will love the government and China. If your rent is high, you will go to the streets."
Looming 2047 threat
Hong Kong's economic survival depends on it being independent and autonomous from China – a predicament Mr Zeman says China is well aware of and would not be willing to risk.
But many in the business community have told me that its relevance and economic future also hinges on it being the gateway to the mainland – a tricky balance to strike particularly for a population increasingly concerned about freedom.
"I have to grow old here, raise my kids here. And China's influence is becoming stronger all the time," Naomi Ho, a 25 year old activist, told me. "2047 is just around the corner. If we do nothing now, Hong Kong might as well be another city in China."
That's the year when Hong Kong's Basic Law ends, and what happens to the territory's special status under the "one country, two systems" principle is unclear.
Under the Basic Law, which has been in place since the UK handed Hong Kong back to China in 1997, Hong Kongers are guaranteed a level of autonomy and freedoms that mainland Chinese don't have. An independent judiciary, for instance, and the right to protest are among them.
The international community is also taking note.
In a report in 2018, the European Commission said Hong Kong's "one country, two systems" principle was the cornerstone of the territory's economic success and that it had "legitimate concerns about whether Hong Kong's high degree of autonomy and its attractiveness as an international business center will continue to be upheld in the long term".
One of the glaring realities this current political impasse has brought home is just how close 2047 is.
For many of the young people protesting out in the streets that I met in Hong Kong though, the threat of China's increasing influence is just too great a risk to ignore.
The Bank of England may need to cut interest rates should Brexit uncertainty persist, one of its policymakers has said.
Even if the UK avoids a no-deal Brexit, rates may still need to be cut, Michael Saunders said.
Interest rates have been on hold at 0.75% since August 2018, when they were raised from 0.5%.
Last week, the Bank said Brexit uncertainty meant the UK economy was performing below its potential.
"If the UK avoids a no-deal Brexit, monetary policy also could go either way and I think it is quite plausible that the next move in Bank Rate would be down rather than up," Mr Saunders told local businesses in Barnsley.
The pound dropped against the dollar after his comments were reported, trading down about 0.4% at $1.2277, before paring losses.
Mr Saunders, who is a member of the Bank of England's Monetary Policy Committee (MPC), said that even without a no-deal Brexit, high levels of uncertainty surrounding the UK's departure from the EU would persist and act as a kind of "slow puncture" for the economy.
"In this case, it might well be appropriate to maintain a highly accommodative monetary policy stance for an extended period and perhaps to loosen policy at some stage, especially if global growth remains disappointing," he said.
Passively waiting to see what happened with Brexit risked inappropriate monetary policy, and the cost of reversing a rate cut if the outlook improved would be low, he added at the event at the Barnsley and Rotherham Chamber of Commerce and Institute of Chartered Accountants.
"In general, I would prefer to be nimble, adjusting policy if it appears necessary to keep the economy on track, and accepting that it may be necessary to change course if the outlook changes significantly," he said.
Policy options
At its last meeting on interest rates, the MPC unanimously held rates at 0.75%.
Mr Saunders said he still agreed with recent Bank guidance that a limited and gradual increase in interest rates would be needed over the medium term, if Brexit uncertainty reduced significantly and global growth speeds up.
In the event of a no-deal Brexit, Mr Saunders repeated the Bank's position that all policy options would be open, depending on the damage to growth and how much inflation spikes from a further fall in sterling.
A disorderly no-deal Brexit could leave the Bank of England's rate setters with an unenviable dilemma.
Do they cut interest rates to boost growth – or raise them to curb inflation caused by a possible fall in the exchange rate, shortages and tariffs?
With tackling inflation at the top of its remit, the Bank's economic models assume rates would rise in such circumstances. But rates are set by nine humans, not machines.
The governor, Mark Carney, recently indicated he'd be inclined to cut in the event of a no-deal – and the vote usually goes the boss's way.
But what is remarkable is that there appears to a change of view on his panel of what to do even in the event of a deal.
Just last week, the MPC repeated its mantra that rates would likely go up slowly and gradually in the event of a deal.
But now, one of those who had previously warned of the dangers of not raising rates – Michael Saunders – says that a cut is plausible, deal or no deal.
The Bank says the economy has lost momentum; Michael Saunders likens the pace to a slow puncture. If he's shifting in his position, it's likely others are too
But how much would lower rates help in the event of a disorderly no-deal?
A cut aims to put more money in pockets. But if any hit to growth was due to shortages and disruption, a supply shock, boosting demand, may be counterproductive.
More money is great – as long as there's things to spend it on.
Earlier this month, Bank governor Mark Carney estimated that in a worst-case, chaotic scenario that a no-deal Brexit could reduce the size of the economy by 5.5%.
The Paris-based OECD has predicted a 2% hit in the case of a more managed no-deal Brexit.
Prime Minister Boris Johnson has repeatedly vowed to take the UK out of the European Union by 31 October, without a deal if necessary, but is in a stand-off with Parliament which has passed a law designed to block a no-deal Brexit.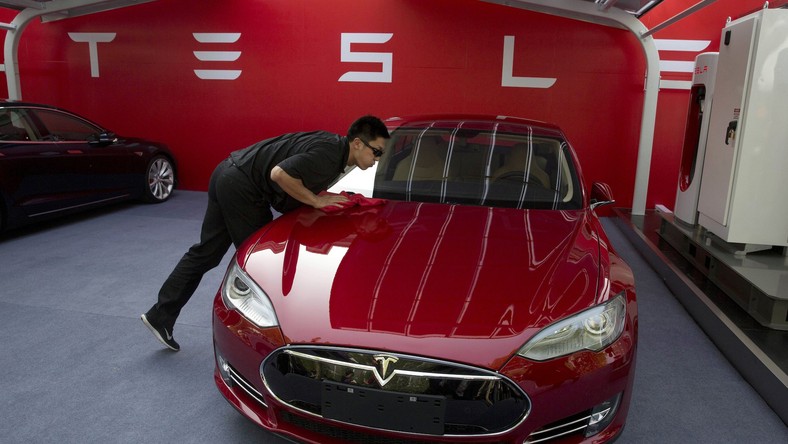 The company has said if that happens, it could make 500,000 total vehicles this year.
However, China's auto market has been on the skids for nearly a year now, and reported its worst-ever monthly drop in sales in June.
Tesla could open its Chinese factory sooner than expected, Morgan Stanley analysts told clients on Wednesday.
"Our China team just returned from a visit of local Chinese suppliers with some fresh feedback on Tesla's progress with its currently under-construction Gigafactory 3 in Shanghai," the team said in a research note. "If they're right, Tesla may be able to ramp China production faster than we have currently anticipated in our model."
Tesla is currently targeting the early part of the fourth quarter, it said in its first quarter letter to shareholders. If that happens, the company said, "this year, we may be able to produce as many as 500,000 vehicles globally in 2019."
Morgan Stanley, who remains an "equal weight" rating on the stock, said it's not updating its expectations yet, but has noted the bullishness in its risk assumptions.
"Our China team's view of Tesla's ability to ramp domestic production and to take commercial share in the domestic Chinese market is more bullish than the forecast implied within our earnings model," analyst Adam Jonas said in the note.
"We have allowed for a greater level of execution risk in our assumptions, given the complexity of bringing an all new plant with all new workers and many new suppliers on line within the Chinese market," he continued.
Still, there are plenty of worries about China's appetite for cars in general in the face of a slowing economy and automotive sales.
In June, China reported its worst-ever monthly vehicles sales drop, Reuters reported .The decline highlighted concerns about the country's economic slowdown as the world's largest car market saw demand fall for the eleventh consecutive month.
Still, there's hope for Tesla to unlock pent up demand for Chinese buyers who may be waiting for cheaper model produced domestically, as opposed to the ones currently shipped from Tesla's American factory in California.
"We expect Tesla will be the leading luxury EV player in China," Morgan Stanley's China team said.