The issue of love, lust and infatuation has long been a topic of hot debate. The reason is because these three concepts share very thin lines as people often mistake one for another. A person could claim that they are in love and it could be that they are lusting after the other party. For some, they could feel that they are in love but in reality, they are just infatuated with the person. This is the reason why a so-called relationship or a marriage could last for a year, six months, and worse still a day.
How then can one know if you're in love, lusting or you're infatuated? As mentioned earlier, these concepts exist on very thin lines so it might be difficult to really know which is which. However, here are some ways one can know the category he or she falls into.
First, love is not defined by the butterflies that flutter in your belly when you see that guy or lady that you like. That's just dopamine at work in you. Love is built. In truth, a person's physical features might attract you to them but that cannot guarantee love. Love is a choice to accept, overlook, tolerate and embrace the other person's characteristics without judging them in any way. With love, it is a long-term thing which involves a lot of processes from getting to know the person to the point of discovering that you love the person in totality. Without observing these processes, you are bound to either being between lusting after that person or being infatuated with the person.
When it comes to lust, it has become commonplace today. You can lust after a lot of things when it comes to the opposite sex. At this point, it is important to note that lust is not peculiar to one gender as both men and women have the ability to lust after themselves. Lust can be in the form of body shape, size, height, among other things. In truth, when lusting after a person, it is likely that you feel that you love the person. However, what really drives you to the person and makes those butterflies flutter in your belly is that particular character or feature that the person possesses. When one party or sex is lusting after the other, they can possibly go at any length to attain that person as they see the person as a prize which they must win. Most times, when they do not get these 'prizes' they become let down and feel they have lost the ones they love.
With infatuation, it involves being lot in the emotion of a toxic desire. When infatuated, there is anxiety, nervousness, urgency, intensity and there is a high tendency to make risky decisions and abandon people you value. It usually occurs at the beginning of any relationship. Being infatuated is more like taking recreational drugs, it makes you 'high; and you want to keep doing more to be in that state. Well., the truth is that infatuation cannot be sustained as any relationship built on the basis of this is definitely going to crash.
After examining this, you would begin to wonder how you can decipher between the three when going into a relationship or when attracted to someone. The only way to really know the difference is when you have emotional intelligence. This would help to process your thoughts and make you live above your raging hormones
For many women, heavy menstrual bleeding is a huge obstacle in their day to day lives. Imagine having to reschedule activities or go home from work because you have soaked through your sanitary towel? Many women know the horrible feeling.
Heavy bleeding can be more than a mere inconvenience but it can also lead to iron-deficient anemia which is the most common health-related threat of menorrhagia. While most cases of anemia are easily treated with oral iron supplements, sometimes the bleeding is so severe a woman's entire volume of blood drops, leading to shortness of breath, severe fatigue and heart palpitations that requires a lengthy hospital stay.
If this sounds all too familiar to you, we are here to shine a light on the scourge of heavy periods and perhaps help you find some light relief.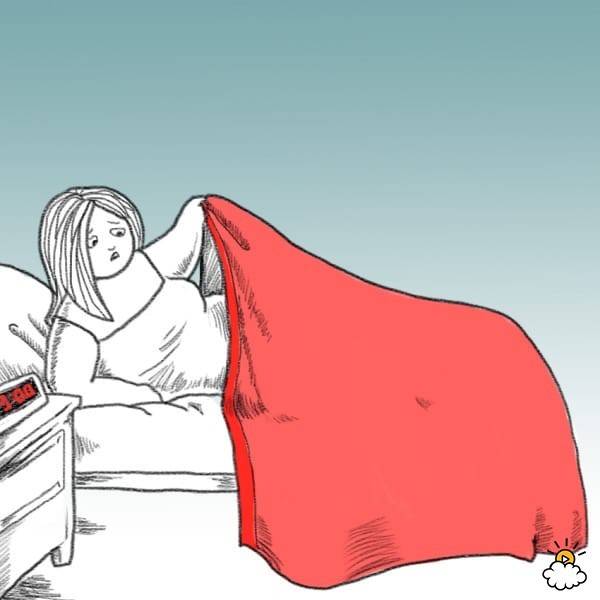 Lots of women can relate to the pain of having to deal with really heavy periods but there are solutions
Causes
Heavy menstrual bleeding may be caused by a variety of issues going on in your body but one of the biggest factors is to do with your hormones.
Hormones are the driving force behind your menstrual cycle. The female hormones estrogen and progesterone help prepare a woman's body for a possible pregnancy by thickening the uterine lining, called the endometrium. If the released egg isn't fertilised, hormone levels will go down and the body will shed the endometrium, which results in bleeding otherwise known as your period.
Changes in hormone levels and as you approach menopause as well as using certain types of birth control can result in unusual bleeding, be it too heavy, too light or not at all.
Difficulties with blood clotting can be another cause of heavy menstrual bleeding. If the body has trouble forming clots, heavy menstrual bleeding can result. If you're concerned about your body's lack of ability to clot, visit your doctor right away before it gets worse.
Other possible causes of abnormal or heavy menstrual bleeding include:
Uterine cancer
Uterine fibroids
Endometrial polyps
Infection
Fluctuations in weight, a very restricted diet, or high levels of stress
Bleeding disorders
Conditions related to pregnancy
Treatment
There are various treatment options for heavy periods. These depend on what's causing your heavy periods, your general health and what will work best for you.
They include:
an intrauterine system (IUS) – a small device that contains the hormone progestogen is inserted in your womb by a medical professional (often the first treatment offered)
medicines without hormones – such as tranexamic acid or non-steroidal anti-inflammatory drugs (NSAIDS)
medicines with hormones – such as the combined oral contraceptive pill or progestogen tablets
endometrial ablation – a procedure to remove the lining of the womb
myomectomy – surgery to remove fibroids
uterine artery embolisation – a procedure to shrink fibroids
hysterectomy – surgery to remove to the womb
MUSIC: HOW FAR HAVE WE COME?