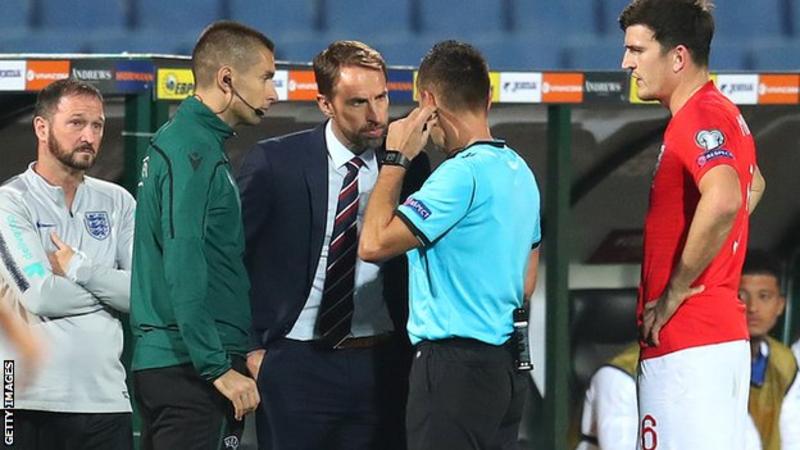 England's Euro 2020 qualifying win over Bulgaria in Sofia was halted twice in the first half with fans warned about racist behaviour.
What exactly happened?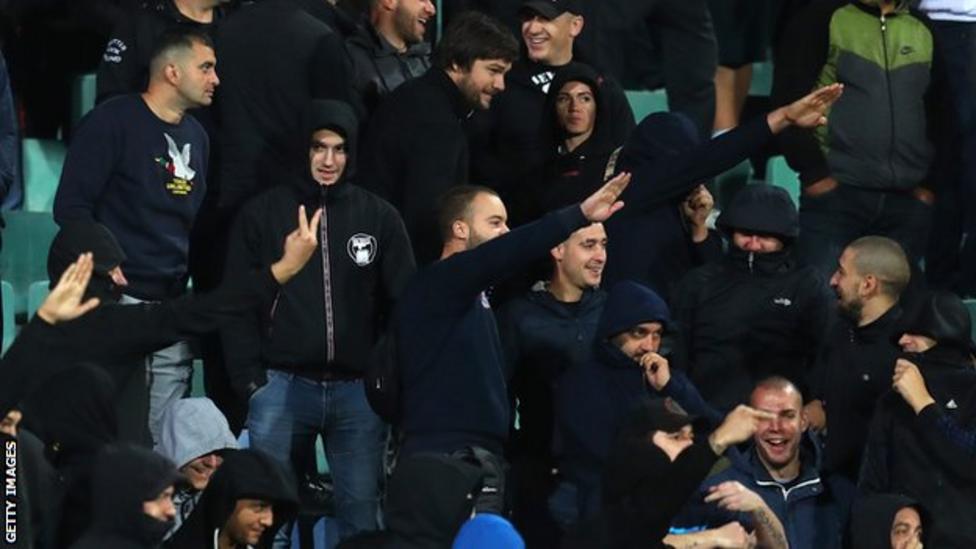 After making a pass, England defender Mings glanced over his shoulder and could be heard calling towards the touchline: "Did you hear that?"
Within minutes the game was stopped.
Striker Harry Kane was in conversation with referee Ivan Bebek on the halfway line while a stadium announcement was made to condemn racist abuse and warn fans that the game could be abandoned if it continued. At the same time, England manager Southgate was talking to a number of his players.
The game resumed but was stopped again just before half-time. Southgate and several England players were in discussion with match officials before the game was restarted for a second time.
A group of Bulgaria supporters wearing black hooded tops – some wearing bandanas covering their faces – started to leave the stadium after the game was halted for a second time. BBC Radio 5 Live reported that some made right-wing and racist gestures while heading towards the exits.
After six minutes of time added at the end of the first half because of the delay, Bulgaria captain Ivelin Popov was seen in a heated debate with a section of home supporters near the tunnel while the rest of the players headed for the dressing rooms for half-time.
What is Uefa's protocol for dealing with incidents of racism?
Uefa has a three-step protocol, introduced in 2009, in place for dealing with such incidents in matches.
For the first step, the referee will speak to the stadium announcer and demand the halting of racist behaviour.
If it continues, the referee can take the players off the field into the dressing rooms for a period of time and the stadium announcer will make another address.
If it still continues, the match will be abandoned.
In this incident, the first step was taken while the players were asked if they wanted to come off the pitch, but decided to continue.
Southgate said: "I explained to the players that if anything else did happen in the second half we would be coming off.
"We all saw the second half was calmer and that allowed our players to do their talking with the football."
'There can be no more pitiful fines or short stadium bans'
This is not the first time in England's Euro 2020 qualifying campaign that their players have been subjected to racist abuse.
In March Raheem Sterling was vocal in condemning the abuse received by England players during their 5-1 win in Montenegro.
Montenegro's punishment was to have two home games played behind closed doors and a fine of 20,000 euros (£17,000).
Anti-racism group Kick it Out has urged Uefa to take strong action, saying the governing body's current sanctions are "not fit for purpose".
"We are sickened by the disgusting racist abuse directed at England men's team tonight by Bulgaria supporters – including TV footage which appeared to show Nazi salutes and monkey noises," it said.
"It's now time for Uefa to step up and show some leadership. For far too long, they have consistently failed to take effective action. The fact Bulgaria are already hosting this game with a partial stadium closure for racist abuse shows that Uefa's sanctions are not fit for purpose.
"There can be no more pitiful fines or short stadium bans. If Uefa care at all about tackling discrimination – and if the Equal Game campaign means anything – then points deductions and tournament expulsion must follow."