Cristiano Ronaldo reached a career landmark on Monday by scoring his 700th career goal in Portugal's Euro 2020 qualifier at Ukraine.
The 34-year-old scored a penalty as Portugal lost 2-1.
His 700 goals so far have come from 973 matches – and he has scored at least once in 458 of those.
His goal in the 2-1 loss to Ukraine was also his 95th for Portugal, leaving only Iranian Ali Daei in front in the international charts on 109 goals.
Joining the greats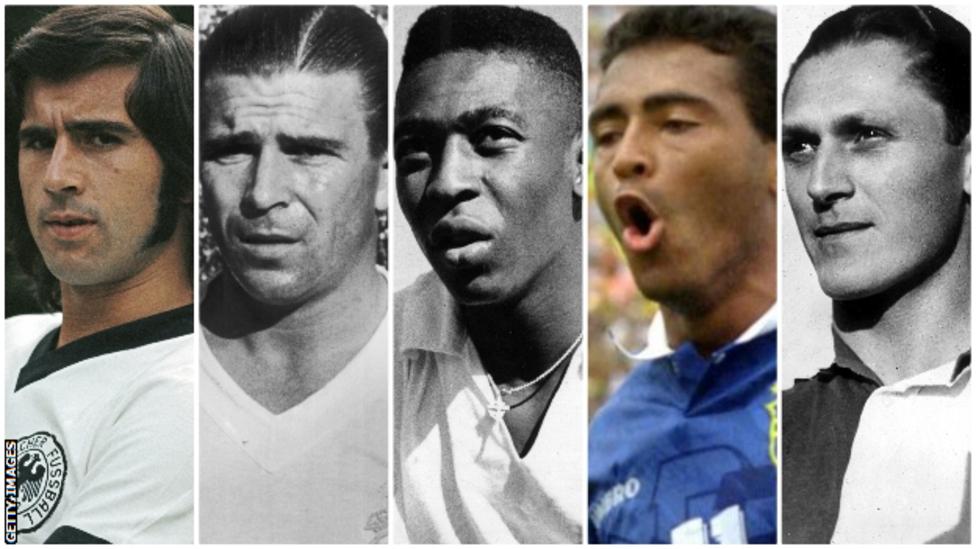 Ronaldo's goal means he joins an elite group of players to have hit at least 700 goals in their career.
According to data from Rec.Sport.Soccer Statistics Foundation, Juventus forward Ronaldo is still some way behind the most prolific player of all time, with Czech-Austrian Josef Bican scoring 805 career goals.
Next on the list is Brazil legend Romario, who bagged 772, while his compatriot Pele is third on 767.
Hungary legend Ferenc Puskas hit 746 goals, while former Germany striker Gerd Muller rounds out the top five with 735 goals.
Players with 700+ career goals
Player
Nationality
Major clubs
Goals
Years scored between
Joef Biscan
Czech-Austrian
Rapid Vienna, Slavia Prague
805
1931-1955
Romario
Brazilian
Vasco da Gama, PSV, Barcelona,
772
1985-2007
Pele
Brazilian
Santos, New York Cosmos
767
1957-1977
Ferenc Puskas
Hungarian
Budapest Honvéd, Real Madrid
746
1943-1966
Gerd Muller
German
Bayern Munich
735
1962-1981
Cristiano Ronaldo
Portuguese
Sporting CP, Man Utd, Real Madrid, Juventus
700
2002-present
A career packed with goals
Real Madrid were the biggest beneficiary of Ronaldo's goals.
He scored 450 times for the Spanish giants, with 118 of his 700 goals coming during the early part of his career at Manchester United from 2003 to 2009.
His 95 goals for Portugal is more than double the tally of any other player to have featured for the national team. Pauleta has the second most with 47.
Ronaldo's favourite opponents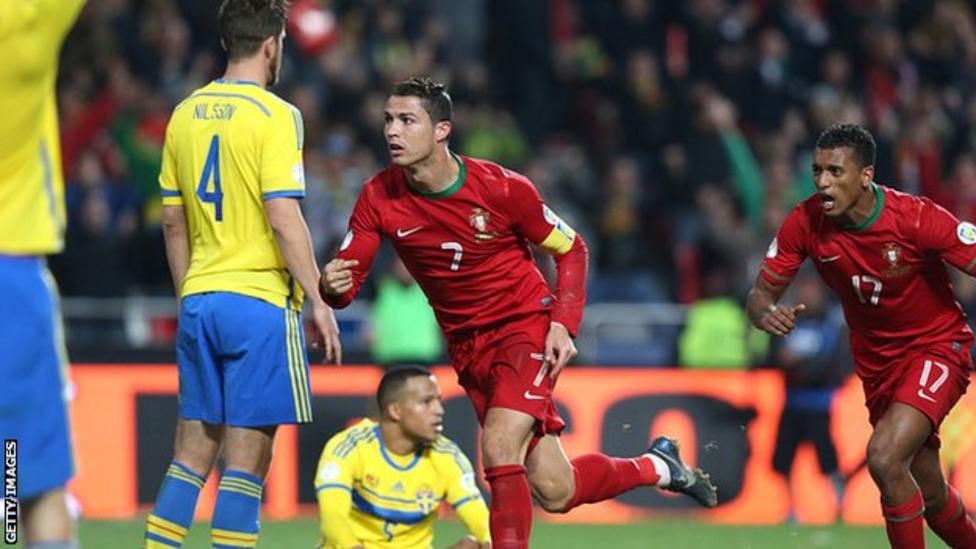 Andorra, Armenia, Latvia and Sweden are the countries to have suffered the most at the hands of Ronaldo, who has scored five goals against each of them.
He has four apiece versus Estonia, Faroe Islands, Hungary, Lithuania, Luxembourg and the Netherlands but has never scored against France, Germany, Italy or England.
At club level, Sevilla (27), Atletico Madrid (25), Getafe (23), Celta Vigo (20) and Barcelona (18) are the teams Ronaldo has scored the most against.
A landmark reached, what next?
Ronaldo is no stranger to breaking records. You name it, he has probably broken it.
Most Champions League goals, most goals in a Champions League season, most goals for Real Madrid, most appearances in European Championships, most Portugal caps, to name but a few.
The list is almost endless. So what is left for him to achieve?
There is still his ongoing tussle with Barcelona's Lionel Messi to be statistically the outright best player in Europe.
Ronaldo's goal against Bayer Leverkusen in the Champions League at the start of the month took him up to 605 club goals, two above Messi's 603.
The pair are the joint all-time top goalscorers in Europe's top five leagues on 419. Ronaldo has 422 league goals, but his three in Portugal for Sporting Lisbon do not count as one of the top leagues.
Ronaldo still needs four Champions League final goals to overhaul Puskas' and Alfredo di Stefano's record of seven, while he needs to score in the competition again next season to match Ryan Giggs' record of netting in 16 consecutive seasons.
Still plenty for him to aim for then…
Liverpool forward Mohamed Salah will miss Egypt's Africa Cup of Nations qualifiers against Kenya and Comoros with an ankle injury.
Club manager Jurgen Klopp, who had been angered by Choudhury's tackle in Liverpool's 2-1 win, said before Salah's latest setback that his joint top-scorer was still feeling the effects of that initial knock.
"I think it is more really annoying – for him, not me – the fact that it always has a bit of fluid in, and he has to deal with it, we get it out and it comes back, and stuff like that," said Klopp on 2 November.
Liverpool's next match is away to Crystal Palace on 23 November.