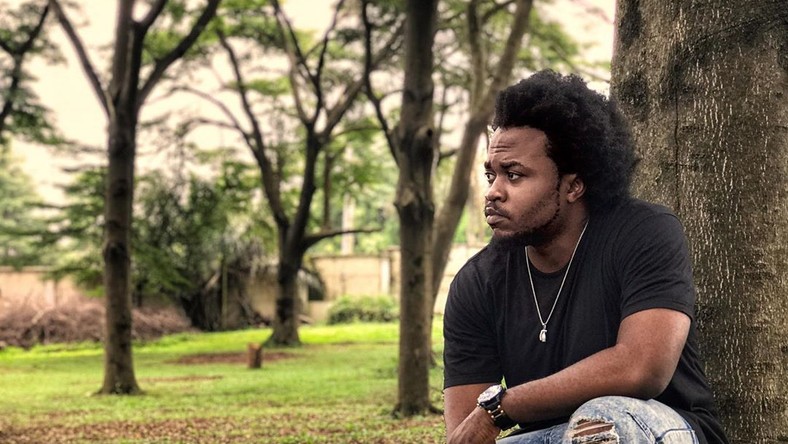 It is a stylized way to spell 'Chameleon .' If the album portrays anything, it is Alpha's unpredictability and inclination to be more experimental.
Asides 'Half Moon,' a 'wash' song that adulates a woman's curves and edges, and which has the perfect amount of melody required, all the other trap songs have this insufficient melody predicament. This line on 'Half Moon,' "The way you move you just might get this bamboo, get you out that bad mood" is merch material.
And can Alpha explain to us why he cut 'Numbers' short? That felt like a Kendrick Lamar rap solo. M.I Abaga's verse on 'PDA' is just so good. As the title intimates, the song is about 'Public display of affection.' Yes, that one.
'SeeHeaven' is like poetic appreciation during 'toasting phase.' Ghost is perfect for this song because nobody does female adulation on wax like him. But then, I question if it would have been better as Track 9. You have to be her man first before you can explore 'PDA.' Equally, I don't think Oxlade should have been featured on that song.
This takes us into the best song on Chvmeleon. It is titled, 'Calm Down' and it features the madness of GoodGirl LA. Word on the street is that LA thrives when you challenge her. If Alpha had known, he wouldn't have told LA that the first version she recorded not good enough. But then, maybe he would have regardless.
The result of LA's anger is one of the best rap-sung collaborations of 2019. Rappers don't often get outclassed, but this is LA's moment. On his own, Alpha allowed LA to shine with his verse delivered in near hushed tones . He addresses infidelity, breach of trust and fake love.
'ThisMoney' is the track that actually needs an Oxlade hook. As good as this song is, Oxlade could have made it single material. Based on the two sequential parts to Chvmeleon both sonically and topically, this writer thinks 'ThisMoney' might have been better as a Track 8. This way, it ushers in the afrobeats sound and ends talk of money, vanity and success.
Then, Chvmeleon can take on topics of love, sex and heartbreak. After 'ThisMoney,' we get the 'Outro' on which Alpha spits some real. In Igbo, he talks about how being good at rapping is only good enough when you're making money. He claims that being good at rapping will only get you compliments when money is more important.
He also calls 'compliments' "rubbish." Honestly, this is refreshing and it explains the more commercial approach to Chvmeleon and why it is named thus. Alpha understands that bars are important, but money is 'importanter.' It's wonderful that he realizes this important fact this early in his career.
Chvmeleon might not taking him straight into mainstream, but because of the album, success now seems more achievable than ever. We might argue that Half Price is better, but Chvmeleon is what Alpha needs.
Did he execute the vision? Oh yes, he does. Is Chvmeleon perfect? No. Is the project enjoyable? Absolutely. Nice one, Alpha. But we cannot call Chvmeleon excellent. Largely, most of the tracks are promising, but without the required 'x factor' to truly be great.
Ratings: /10
•   0-1.9: Flop
•   2.0-3.9: Near fall
•   4.0-5.9: Average
•   6.0-7.9: Victory
•   8.0-10: Champion
Pulse Rating: /10
Tracklist: 1.4/2
Content, Themes and Delivery: 1.6/2
Production: 1.3/2
Enjoyability and Satisfaction: 1.3/2
Execution: 1.4/2
Total:
7.0 – Victory