Brazilian forward Rodrygo announced himself on club football's biggest stage with a 'perfect' hat-trick in Real Madrid's 6-0 defeat of Galatasaray.
But Rodrygo provided an assist for Benzema on the stroke of half-time and the Frenchman returned the favour in second-half stoppage time.
The teenager – whose full name is Rodrygo Silva de Goes – completed his 'perfect' hat-trick as he poked in with his right foot to cap a crushing 6-0 win.
Rodrygo 'learns very fast' – Zidane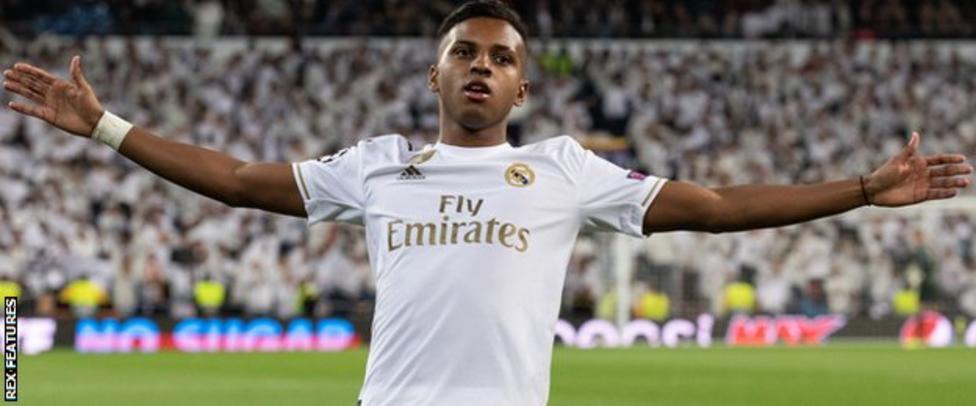 "He doesn't surprise me," said Real boss Zinedine Zidane. "He has a bit of everything.
"He is intelligent, he learns very fast and wants to learn and improve.
"Physically he has to get better but technically, he knows how to do everything with the ball."
Benzema added: "Rodrygo is only 18 years old but he is fearless. I love to see a young footballer play this way."
Wayne Rooney – also then 18 – was older than Rodyrgo when he scored a Champions League hat-trick on his Manchester United debut against another Turkish side, Fenerbahce, in 2004.
Benzema's record-equalling 15-year streak
Benzema's brace saw him score in a 15th consecutive Champions League campaign, becoming only the second player – after Barcelona's Lionel Messi – to achieve the feat.
The 31-year-old French striker's first Champions League goal came at the age of 17, when he scored for Lyon against Rosenborg on 6 December, 2005.
That was his only goal of that European campaign, and he netted just once in Europe the following term too and just once in 2009-10, after his £25m move to Real in 2009.
In his 15 Champions League seasons he has scored 62 times, averaging more than four a season.
He has never been the top scorer in a Champions League season, but is fourth on the competition's all-time goalscoring list, behind only Cristiano Ronaldo, Messi and Raul.
The Frenchman scored against Liverpool in the final in 2018 and helped his side win four European titles between that year and 2014.
Messi became the first player to score in 15 straight Champions League seasons just two weeks before Benzema.
The Argentine set the record in a narrow win at Slavia Prague on 23 October.