A view into CKay's mind is quite interesting.
This happened two months later than expected, but it finally happened and it felt like perfect timing. He came with his manager. As this writer approached them in the lobby, he thought the atmosphere was cold and so were the initial pleasantries.
Just before the interview started, he says, "I feel good. But I haven't been here in a while. You guys (Pulse) and I haven't been best of friends (laughs)."
About two months prior, this writer had written a not-so-good review for his EP, CKay The First.
As a creative, he understood the inevitability of that cold shoulder. However, this writer was wrong. A few moments after pleasantries at the lobby, we all got into the studio – the cold shoulder became warm. Jokes were also shared and 
CKay, 
the subject of the interview
loosened up.
Even when this writer told him, "I liked some tracks on your EP, but I thought it could have been better," the response was a smile. The result was a great interview – a chat that was both unorthodox and fun. CKay proved a good interview that wasn't cagey – words flew out him and so did the stories.
Born Chukwuka Ekwuani, he talked about his upbringing in Kaduna, Nigeria, growing up on music, running to Lagos and his journey to Chocolate City, Who The F*** Is CKay?, CKay The First, his 2020 music and upcoming short film. When you sit down with him, you don't just understand his journey, you'll see how much he loves the music.
When people gesticulate with their hands and their face light up as they discuss music, it's a thing of passion and CKay has it. He's also very honest. It helps that the music comes at a great time in his personal, professional and label life. However, he says he will not have a label for artists, but might have a publishing arm for producers and songwriters.
Chukwuka Ekwuani
A native of Anambra State, he grew up with a music-loving father who is also a Medical Doctor and also a Choir Master of an Anglican Church. Now, he is a producer, singer and songwriter but his first love was singing and he started that as a three-year-old.
"That was like my first experience with creating music from scratch. I would record ideas on a device and sometimes it doesn't sound good, but I was like a guinea pig for myself. "
My learning how to produce was so that I could make my own music. So singing first." He started writing songs when he learned how to play the piano age seven – his dad taught him while playing Anglican hymns.
But quickly, he knew that he wanted to play his own music and not just play other people's music. However, he denies that process being part of a religious rebellion. He still considers gospel music and classical music as pure forms of art, but at that point, he claims that he was "dying to express."
What drives him is a passion to create music that hasn't been created before. He craves the idea that he can timestamp music with his identity. However, he says that he doesn't feel a need to outdo himself. Instead, it's about telling stories on his life at any point.
Moving to Lagos
When he couldn't hold the music back anymore, he packed his bags, bought a plane ticket and landed in Lagos – this was without his parents' knowledge. His entire movement was premised upon faith in his own talent and God.
God works in mysterious ways. At a seminar, he met Audu Maikori and that led to his journey at Chocolate City.
In the attached video, you can watch CKay's interview with Pulse. He talks about moving to Lagos, signing to Chocolate City, Who The F*** Is CKay, CKay The First and so forth;
CKay The First and Making music in Yoruba
On CKay The First, there is a song titled, 'Beeni' and it features Barry Jhay. Somehow, this topic and the topic of femininity brought the best conversation from our chat. On Yoruba he says that, "Yoruba is a very musical language to fit into vibes. Igbo fits into vibes, but it's particular vibes. Yoruba is more flexible and adaptable to different vibes.
"I try to use it, but not in a way to offend Yoruba people (laughs). There was a song I made where I mis-pronounced a line and Yoruba people came for me. My people, I'm not Yoruba, but I like your language and I will like to use it and sing. In case I pronounce any words wrongly, please forgive me."
He says that he's more about communications and expressions than language. He thinks that creativity should be about finding the right language that fits the song. Coincidentally, 'Beeni' was also the hardest song to make on CKay The First.
He had already made the song, but he felt it needed someone deep and emotional. He also felt like the person had to be Yoruba-speaking. His mind went to Barry Jhay, but to get the artist on 'Beeni' proved hard until one night at 11 pm. He went to Barry Jhay's house and the song was made. But that was after going to Dotman's house to get a Sound Card.
DTF
The first track on CKay The First is 'DTF and it's about a one night stand that became a regretful relationship. CKay made the song against the societal construct that makes women want to see 'value' before having sex.
He says, "I feel like we're in a position in society where people want to pursue relationships after one-night stands just so they won't feel cheap. It's mostly – not always – from the female perspective. When some women meet a guy they like and they have sex, they want a relationship. But it's okay to just have sex and it's even better that having a toxic and abusive relationship.
"This is from experience – I was in a very toxic relationship and it ended really bad. Like, really bad. I feel like it's more about the system that birthed and brought women up too. Africa, we are very conservative and above all, religious and very hypocritical. I'm a Christian and I have my beliefs, but this is just me reasoning as a human being.
"However, I feel like love is a big deal during which you totally open up to someone. So, I feel like we should stop conflating love for physical attraction after one or two sessions of sex. If you go there and the other party isn't deserving of you, it ends badly. So I feel women and men should be more honest with themselves.
"If you like someone and you want to sleep with them, then say it. Let's just not go around deceiving people and leaving them scarred for life. Some people don't recover from toxic relationships and it affects their marriages."
Short Film
In 2020, CKay will release a short film about CKay The First. He calls the film an "African extra-terrestrial love story." The cover art for Ckay The First is a part of that story. When you look closely, you see a spaceship and some weird things, but they all have a meaning. CKay was into sci-fi as a kid and has some interesting theories about extra-terrestrial existence and aliens.
CKay releases 'CKay The First.' (Chocolate City/Warner)
He feels, "The universe is too large for humanity to be the only form of life in it. Let's say earth is like a speck of dust and this whole space (the studio) is like the size of the milky way galaxy. The Universe is too big to only be home to earthly life. There's also been like 100,000 UFO sightings between 1980 and 2001.
"So, I feel like these sightings only happen everywhere else asides Africa. So, are you going to tell me that aliens only want everywhere else asides Africa? So what if our African gods were aliens? Then I decided to interpret theory in this film from an African perspective and tell a love story with it."
The film was directed by South African, Makhere Thiesto and shot in Ghana. Ckay wanted to replace the idea of music videos with a short film that ties the eight songs on CKay The First into one great story.
The short film is also about ten minutes long. CKay admits that most people won't understand it, but he feels like he owes it to his creativity and talent to do it.
2020
CKay will drop EP after the short film. But before then, the latter parts of 2019 will see a song titled '11/10′ drop. It's a song by LusshBeatz and also features Terri. CKay also have a collaboration with Belgian, Bryan MG.
2020 will also see releases with Joeboy, Peruzzi, Niniola and more.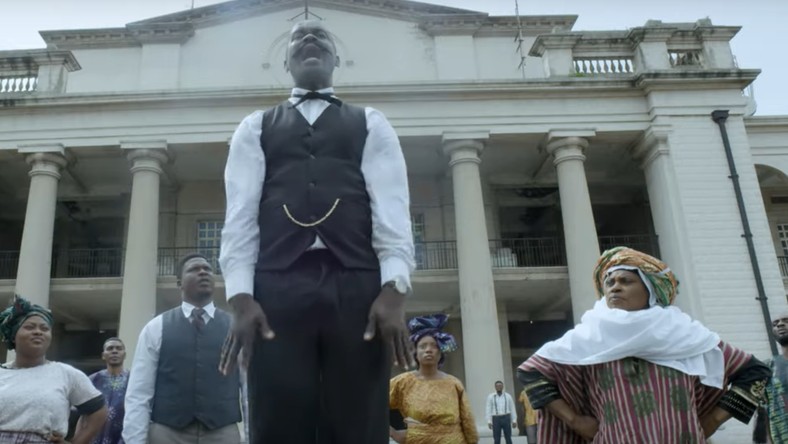 There's no need for a poll to understand that all many Nigerians know about Herbert Macauley is that he's the face on the one naira currency note that no one spends anymore.
In quite the same fashion that the one naira note has been unfashionably relegated out of public consciousness, the history of the man whose face adorns it is not as prominent as one would imagine, considering his national impact.
Macauley died at the age of 81, and he lived a long life of rebellion against the colonial government of his time, clashing with the authorities on a very regular basis.
However, there are legitimate confessions from some of today's youth who were misled to believe one of the founding fathers of Nigerian nationalism was white.
Imoh Umoren's new film, The Herbert Macaulay Affair, is a timely biopic that seeks to set that history straight.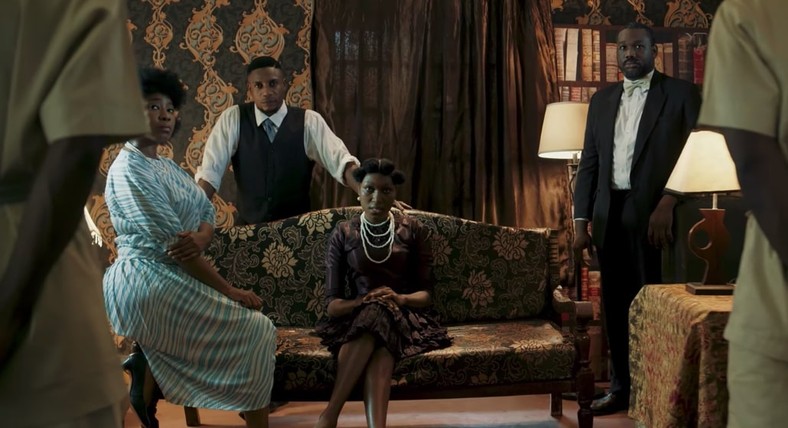 The Herbert Macaulay Affair explores nearly three decades of Herbert Macaulay's life
The Children of Mud director was inspired to make the film during his work as a member of the writing team for Nigeria's '100 years' documentary, a documentary that explored the history of Nigerian icons.
A common thread with many Nigerian icons is that their names are known, but their stories are largely obscure, creating a huge gap between future generations and figures that shaped the nation's history.
This problem is exacerbated by the problematic place of history as an academic subject in Nigerian classrooms, an omission that has been noted by many to be a criminal recipe for disaster.
If The Herbert Macaulay Affair achieves anything, it is exploring the story of a very important man whose history, like his peers, is a distant memory, shrouded in mystery for no good reason.
Far removed from his fanciful moustache and his face on the one naira note, the film takes a deep dive into the man who was a thorn in the side of colonialists that ruled Nigeria with understated impunity.
The Herbert Macaulay Affair picks up from 1893, the year Macaulay returns from England after studying as a borough surveyor and water engineer in Plymouth.
He resumes work with the colonial service as a surveyor of Crown Lands but the colonial politics of the time frustrates him so much that he becomes a radical against the system.
The Herbert Macaulay Affair jumps from one moment of Macaulay's life to the other, marked by love, loss, and tragedy, all tied together by the relentless activism that made him such an enigma.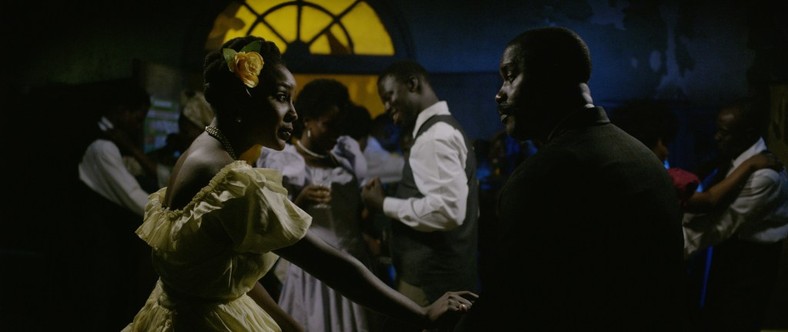 Martha Ehinome Orhiere (left) and William Benson (right) in The Herbert Macaulay Affair
The film shines a light on his passionate pursuit of a fair society through opposition to colonial positions on land rights, taxes, and racial segregation as it existed in colonial Nigeria.
William Benson is imposing as Herbert Macaulay and exudes a burst of energy that you'd picture someone of Macaulay's disposition would have possessed.
Whether it's leading protests, negotiating with adversaries, talking down on white colonial superiors, or having pillow talks with his wife, Benson brings Macaulay to life as a very capable man with striking eloquence.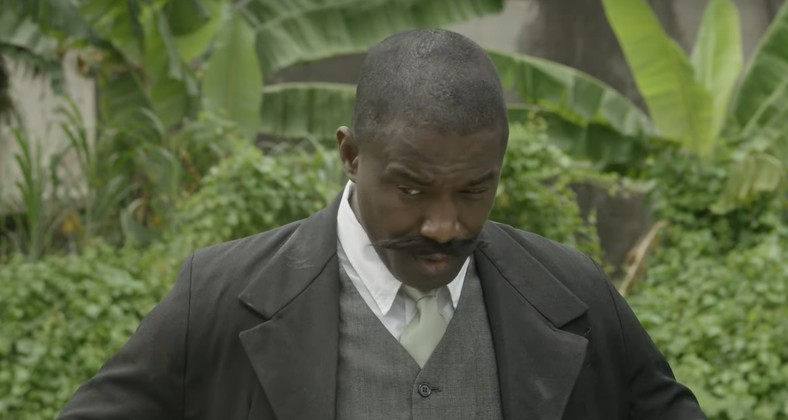 William Benson delivers a commanding performance as Herbert Macaulay in The Herbert Macaulay Affair
The film explores his relationship with political allies, most notably then-Oba of Lagos, Eshugbayi Eleko (played by Saidi Balogun), and Alimotu Pelewura (Mary Kowo) who was the leader of the Lagos Market Women's Association.
His local adversaries such as Henry Carr (Owen Nediegwu) and Sapara Williams (Olaide Almaroof) also make cameo appearances.
Kowo delivers on the fierceness that Pelewura was known for as the leader of one of the most influential women's organisations in colonial Nigeria, and Balogun is impressively reserved in his role as the Eleko of Lagos, settling for a regal mien he's not particularly used to.
Stanley Evans (as Sir Henry Edward McCallum), and Phillip Jarman (as Governor Hugh Clifford) are forgettable in their roles as colonial officers who are Macaulay's adversaries, casualties of Umoren's failure to properly outline the power dynamic between both parties and the consequences that dynamic upheld.
The opening act of the film also dumps in a few half-baked scenes that seem to exist for no significant reason other than to fill time. Its final act, however, ups the ante and explores events that shaped Macaulay's life and politics in a charged manner.
While Umoren never fully commits to painting Herbert Macaulay as a saint, he notably glosses over his court conviction for fraud, a crime for which he served a two-year sentence.
The director has been vocal about the fact that the film is not a social studies text book, but it does appear like it would have added some complexity to his film character.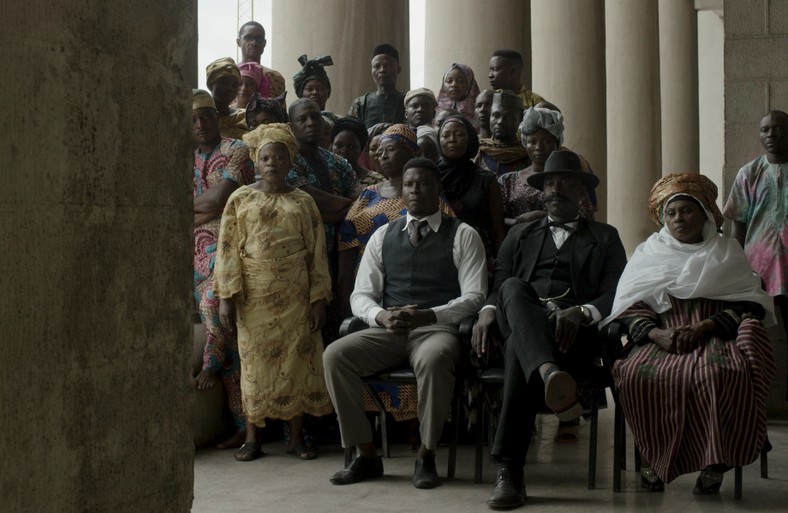 Herbert Macaulay's anti-colonial rebellion won him a lot of allies and fans over the course of his life
Nollywood should not be expected to fix the lasting damage that the Nigerian education system is inflicting on the nation's history, but projects like The Herbert Macaulay Affair are perhaps proof that it can bridge some of the gap.
If The Herbert Macaulay Affair has done anything at all, it has enlightened a handful of people that he was not a white man, and that he was a nationalist that fought for the rights of Nigerians as we know today. And now, his story is less forgettable.
A long-lost painting by a celebrated Italian artist that was found hanging in the kitchen of an elderly French woman has sold for €24m (£20m; $26.6m) at auction, setting a new record.
But the winning bid far exceeded expectations, with the painting fetching four times the estimate.
Acteon Auction House said the sum, paid by an anonymous buyer from northern France, was a new world record for a medieval painting sold at auction.
"When a unique work of a painter as rare as Cimabue comes to market, you have to be ready for surprises," auctioneer Dominique Le Coent told Reuters news agency.
For years, the painting hung above a hotplate in a kitchen in the city of Compiègne. It was spotted by an auctioneer, who advised its owner to have it evaluated by experts.
The owner believed it to be an old religious icon with little value.
Tests were carried out on the artwork using infrared light to determine the similarities with works by the Italian painter Cimabue, also known as Cenni di Pepo.
Born in the city of Florence, he was active in the late 13th and early 14th Centuries – a transitional figure between the stylised art of the medieval period and the more naturalistic works of the Renaissance.
The artwork is tiny; measuring just 20 by 26cm (8in by 10in).
It is believed to be part of a polyptych – a larger work of painted scenes divided into several panels – dating from 1280, depicting Christ's passion and crucifixion.
Two other scenes from the same Cimabue series can be seen at London's National Gallery, and the Frick Collection in New York.
Cimabue's work was largely influenced by Byzantine art, produced on poplar wood panels with backgrounds of gold paint.