Jenna Dewan is denying allegations that she shaded Camila Cabello at the 2019 American Music Awards.
During Cabello's performance of "Señorita" alongside Shawn Mendes at the awards show, the camera panned over to Dewan, who seemingly turned and said, "She's always extra."
"I'm getting a lot of text messages from people wondering if I was shading Camila. No! I love her, I love her so much. I'm such a big fan of hers," the "Step Up" actress explained. "I don't understand what that's about but no, I love her, love her, love her."

Friend and stylist Brad Goreski then chimed in, stating, "Guys, we were bumping and grinding so hard to 'Señorita.' We're obsessed."

"That's my favorite song!" Dewan added.

Dewan split from Channing Tatum in 2018 after 10 years of marriage. In her new book, "Gracefully You, How to Live Your Best Life Every Day," Dewan spoke on why the couple got a divorce.

"I'd come to realize the dynamic I was in wasn't serving me nor was it serving my daughter," the actor-dancer wrote, according to People. "First and foremost I had to accept the realization this isn't working and had moved into hurting."

Related
Related Posts
Ashley Graham is loving her pregnancy journey.
The model, 32, posted a new photo on social media proudly showing off her baby bump as she held earphones to her stomach.
"Baby boy is the size of a coconut this week and already getting some advice from @gayleking on my podcast @prettybigdealpod 💙 Gayle you are wild and I LOVE IT. We fast forwarded your story about the stripper pole."
Graham revealed on an episode of "The Ellen DeGeneres Show" that she was having a son.
The Sports Illustrated Swimsuit cover model announced she and her husband, Justin Ervin, were expecting back in August and has been keeping her fans updated on her progress via Instagram. They reportedly met each other while in church.
"Nine years ago today, I married the love of my life. It has been the best journey with my favorite person in the world!" she wrote on social media at the time. "Today, we are feeling so blessed, grateful and excited to celebrate with our GROWING FAMILY!"
The businesswoman has been extremely open about the physical changes that accompany pregnancy.
In a previous video on Instagram which showed off her shape, she wrote: "Getting bigger and bigger and trying to embrace my new body every day," the model, 31, wrote on Monday. "It's a journey and I'm so thankful to have such a supportive community."
She also proudly showed off her stretch marks with the caption, "Same same but different," and was applauded by her fans for being real about different body types.
One wrote: "I adore you for this."
Another added: "We need this!!! Beauty and realness." A third said: "My Lord, THANK YOU for this."
The producer talks about his Twitter outburst which happened a fortnight ago.
Around 10:00 am, this writer gets a call for directions. 30 minutes before the 12:00 pm interview, he was here. Dressed casually in a pair of trainers, sweatpants, T-shirt and hoodie, he was taller than I had imagined. He also had a back pack that I was to discover had goodies in the form of chocolates.
He was cheerful. Before interview, we had a beautiful chat about his career, the industry and life in general. We also ate chocolates as the chat wore on. He was laidback and the chat kept going.
Effects of afrobeats wave
Afrobeats is the current sonic obsession of American capitalists. Everyone wants a share of the 'untapped ground.' So far, it has not really yielded any major fruits, but it looks like that is inevitable. For these western capitalists, the goal is profitability and marketability.
Beyonce did a lot with her album, The Lion King: The Gift. This reality continues to impact African music markets – everyone wants to appeal to 'a Sir Lucien Grainge.' Northboi says that is also the case for producers. He says for him, this reality has positively affected the way he makes music.
He says, "Change is uncomfortable. People prefer security and a method that guarantees success no matter how small. Now, afrobeats going international means it's starting to appeal to foreign minds. Those foreign minds already have what appeals to them.
"There's a way they like their music – the cadence, the sound selection… they don't like too much, they like simplicity. Our version of afrobeats was dense – 'get it all in there,' just make it loud… But they (foreigners) like simplicity and composition.
"I feel afrobeat artists should learn how to play certain instruments because internationally, you can use four instruments to make a beat and that beat will be international. Most of the biggest hits come on simple beats. If you look at Rihanna's 'Work,' or Drake's 'One Dance,' the beats were simple.
"Coming down to afrobeats now, we have to adapt to what that market finds appealing and incorporate them into our sounds. For me, it has affected the way I make music because I find myself working with a few of them and I experiment with different sounds."
Northboi feels like international artists find it hard to relate with our raw, dense afrobeats. He feels like these foreign acts don't like over-produced beats. American Producer, Larrance Dopson said as much during his 'In The Studio' session with Output.
Lessons of a producer
Nonetheless, while a few producers succeed, most are struggling. The Nigerian landscape can be hard to navigate for a composer. Artists don't want to pay producers and songwriters. Sometimes, artists even steal songs from producers or their fellow artists.
Ordinarily, producers should be paid upfront for the beat and then get royalties when release becomes the discussion, but Nigerian artists are always reluctant or unwilling to do either. Even when they pay producers upfront, they can reduce fees charged. What should be an easy process is arduous.
For Northboi it is because, "Nigerians depend on their feelings to think." To him, Nigerian acts only act on the impulse of their own needs, not the other guy's needs. He feels like it is general human nature to be reluctant to pay for anything, but evolved humans have overcome this weakness because they work with reason and logic.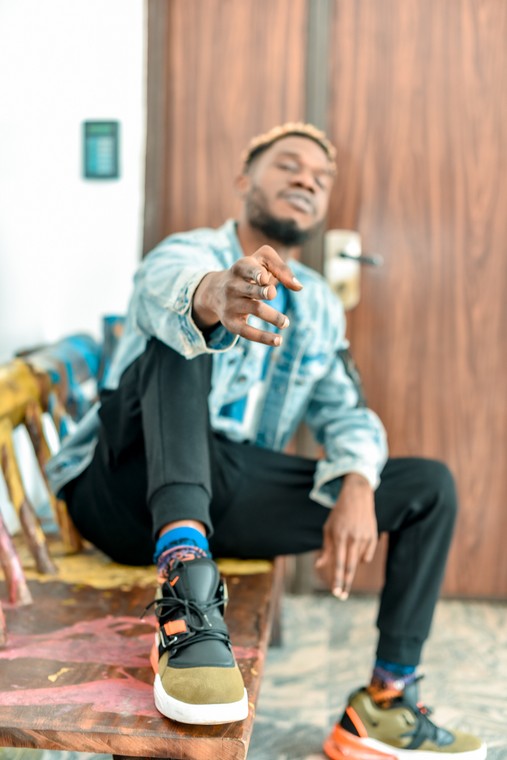 Nigerian producer, Northboi visits Pulse Nigeria. (Pulse Nigeria)
The producer also pegs it down to the common penchant of Nigerian artists to feel superior to producers and songwriters. He backs it up with how Nigerian artists work with foreign producers and have no problem paying. He says, "They probably even paid them (foreign producers) before they walk into the studio."
Northboi then says, "Greed is another main problem." On whether he makes beats for free, Northboi says he does.
"God gave us this thing for free anyways. Only thing it costs you is effort. I have friends I am working with right now that I dash free beats," he says.
Joro: Wizkid's 'reluctance' to pay for beats
A few days before this interview, Northboi had a Twitter exchange with fellow producer, Killertunes – who was later praised by Wizkid. Killertunes produced 'Ghetto Love' for Wizkid.
Initially, Wizkid announced 'Joro' in June 2019. It was going to be his first single of the year, but it only dropped in September, 2019. As Northboi tells Pulse, the song was recorded last year after he left Wizkid's house to get his own place. He had lived with Wizkid for a short time before then.
He left due to an issue with Wizkid – at the time, he wasn't even sending Wizkid any beats. He calls it, "a family thing."
On one of his visits back, he met with his friend, Starboy Terri who played him some songs made by Wizkid. One thing led to another, Terri convinced Northboi to start sending Wizkid beats again – he obliged and sent Wizkid 13 beats. One of them became 'Joro.'
He claims that the Teni-featured track which Wizkid teased on his Instagram live in March 2019 was also one of the beats he sent. He says that another one titled, 'Sarah's Song' is also there.
In 2018, recording started after Wiz called Northboi to come touch the beat, but it wasn't completed. At the time, Northboi had not been paid.
While he had been paid when this interview was conducted, he says, "It (my social media outburst) wasn't really about 'Joro,' it was about my whole experience with the second party (Wizkid). After 'Joro' was ready, his management reached out for the STEMs to 'Joro' and 'Blessings'…
"I talked with my Lawyer and Kel P and they said, 'No.' Kel P said that by international standards, I have to see a contract, sign and get my payment before anything. They said if they get the STEMs, they have everything and then, they can do what they like and think about you when they want.
"So, a payment for the STEM proves commitment to get the project done. But in the case of 'Joro,' after we fought, Wizkid didn't want to give me the contract initially. It took a lot of fight and back and forth before he did. He finally did and our Lawyers met.
"But even as at that, it was not when I was paid. I was paid before the song dropped, but that was after a lot of documents were sent back and forth.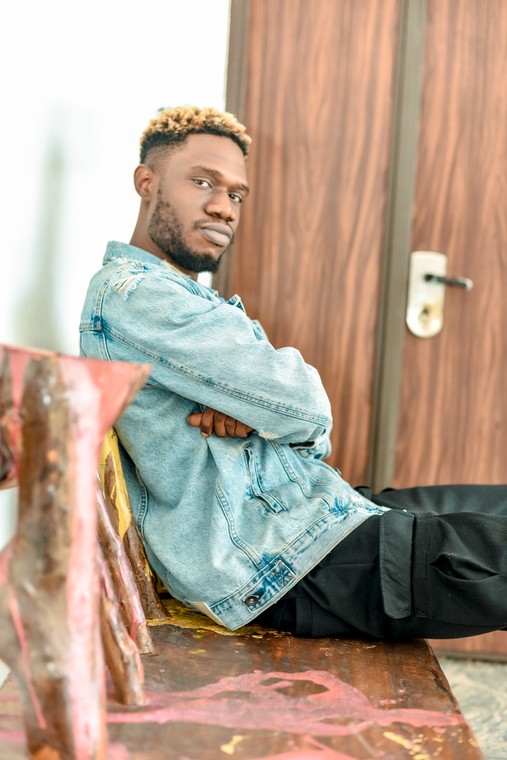 Northboi visits Pulse Nigeria. (Pulse Nigeria)
"What stimulated what I said was that after we settled 'Joro,' we started working on newer songs. That was when we made songs with two big Jamaica acts (Darmian Marley and Buju Banton). The problem was that we kept working on new songs without payment for the older ones.
"When I ask, I usually expect to get a positive response, but I never get any. Not even, 'We're looking into it…' I might chill for a few weeks and ask again. But like before, I will get no response. Wizkid could then cover it with another chatter and then ask for beats.
"I will send him beats. Then, he messages me one time and says that his people will contact me for the Buju Banton record. Then asked me to send him beats. I told him I would send four beats. I asked about the previous records, but I never got a response.
"So I texted him that even though I love him, I didn't see any importance in working for him if my life isn't important to him. I chilled and then, he responded with threats. So, we had an exchange of words in the DM and that was how it ended…
"I thought everything had ended and then after the release of 'Joro,' I saw him praising another producer (Killertunes) on his social media. But what really pissed me off was that Killertunes went online and started saying I made an artwork for 'Blessings' before the song dropped and I never did that.
"He also started disparaging my producer tag because it's too long and I never had problems with him (Killertunes)… He also talked about how 'chairman (Wizkid) was the reason an 'aboki (Northboi) was getting proud. So, that was what caused my anger on Twitter."
As at when this interview was conducted, Northboi had not been paid for the Buju Banton and Darmian Marley records. Neither have documentation been sent for them.
Before 'Joro,' Northboi had produced three singles for Wizkid. The producer admits 'Joro' was the first time Wizkid showed reluctance to pay him. The second time was for the unnamed Darmian Marley record. When asked what the situation is with the Buju Banton record, Northboi says he has not asked about it, but he expects similar reluctance and a protracted event to get documentation and payment.
The producer then says that this issue might be why the release of 'Joro' was delayed. As the chat continues, the producer underlines how a lot of Nigerian producers experience this at the hands of artists, but are reluctant to talk about it because they don't want to mess with their connects. He says it mostly happens with A-list artists.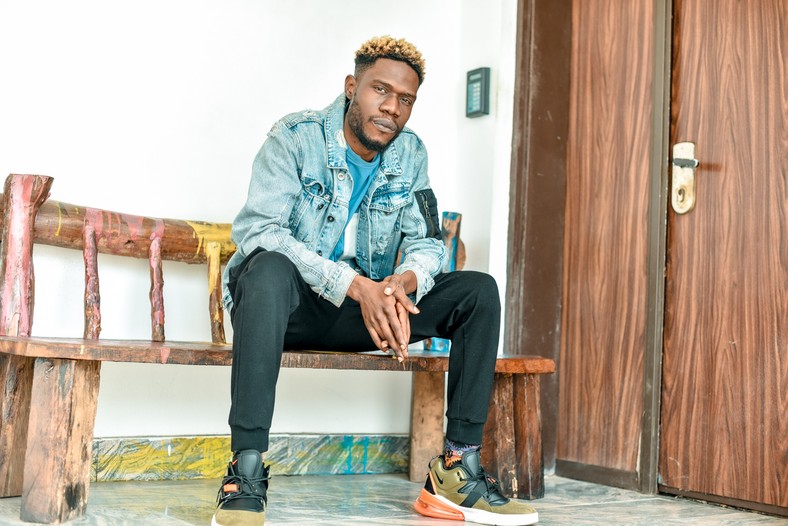 Northboi visits Pulse Nigeria. (Pulse Nigeria)
However, Northboi says that until we start talking about these things, they will continue to happen. Nortboi's advise to Nigerian producers is to develop themselves and make themselves unavoidable to artists. According to him, artists only want a hit and if that means they roll with a particular producer, they will do it.
He also advised producers to talk to people like Peedee of Aristokrat, Bizzle Osikoya of The Plug or Bankulli because they genuinely care about producers. In totality, Northboi says that he will only work with Wizkid if he sees a change of heart.
Pulse reached out to Wizkid's representatives, label and associates for comment on the issue, but couldn't get a response.
In the future, Northboi says we should expect work with Rema, Mr. Eazi and so forth.
Related