3 reasons why you should consider wearing a classic men's hat
1. Functional. So if you go back and you think about when men wore hats like this, especially it was very fashionable, so it was easy for us to wear it because everyone else was doing it, but they wore it primarily because it was functional, because it actually kept the rain, the wind — everything. It kept all of this.
We go into a work area and they weren't always heated the way — we live in a very comfortable world now, one in which you've got central heating, central air conditioning, all that stuff.
Hats used to perform a much needed function of actually keeping you cool, helping keep you warm, and keeping the sun, all of the elements off of your face. They were a very functional piece.
2. Very stylish if you know how to wear it and if you wear it with confidence. Again, back in the '40s, back in the '50s, back in the '60s, you could wear it and you'd look around. Other men were wearing it and you felt safe.
Nowadays, you've got to have the confidence to pull it off because most likely, you're going to be the only man that you're going to see wearing a hat, but that's a good thing if you have the confidence and if you have know-how.
If you know that it's going to help your face look better, if it's going to help you stand out, those are some great things if you have the courage to be able to do that.
3. There are certain meanings that a hat sends that are a bit subconscious. Have you ever wondered why military men, why police officers, why men in authority oftentimes are wearing hats? Because they send a signal of strength, so that's a great thing.
Another thing is why do they send off that signal of strength? If you get down to it, hats make you look taller. Any man wearing a hat gives a perception of added height. Think about it.
Height is never a bad thing. Many of us know this. Many of us would like to look a little bit taller, so wearing a hat can add to that. Those are three reasons to consider wearing a hat.
5 things to look for when you're buying a hat
I'm going to create a separate article and video on this, so I'm going to touch over these really quickly.
1. Material. What is it made from? Is it made from straw? Is it made from felt?
Now, felt, in case you're wondering, that's actually where they take a lot of — basically wool, and then they mat it down. They form a material from it, which is then shaped — they shape the hat with that. There are other things and I'll go into that into a later video.
2. Shape of the hat, I started to talk about that. The shape of a classic hat is going to determine the style. We're going to talk about nine styles, so I'm not going to go too much into this, but the shape.
3.  Size of the hat. Make sure it fits you. Wear a hat that's too big and it's going to look bad. Wear a hat that's too small, it's going to look comical.
4.  Quality of the build. Was it made by a machine? Was it made by hand? Is this something you're going to pick up at Target for $12 or is this something you're going to have handmade like that woman I was talking about, Satya?
She makes all of hers by hand in New York City, so I think there's a huge range. I really recommend that if you are getting into this, that you work with a professional and that you're confident.
Now, you can play around and many of us have worn caps for function, but I really advice looking at a quality hat if you're serious about bringing in a classic piece.
5. Price. Now, why did I put price last? Well, because if you're really looking at a hat, I would rather you spend — you could spend $20 on something that you wear once and you don't like, or spend $120 on something that you love and that you wear hundreds of times.
Think about that. The one that you spend 20 bucks on cost you $20.
The one that you spent $120 on but you wore hundreds of times cost you less than 50 cents a wear.
Okay, guys, let's dive into the styles. To start this off, I'm going to go ahead and I'm going to bring in a hat.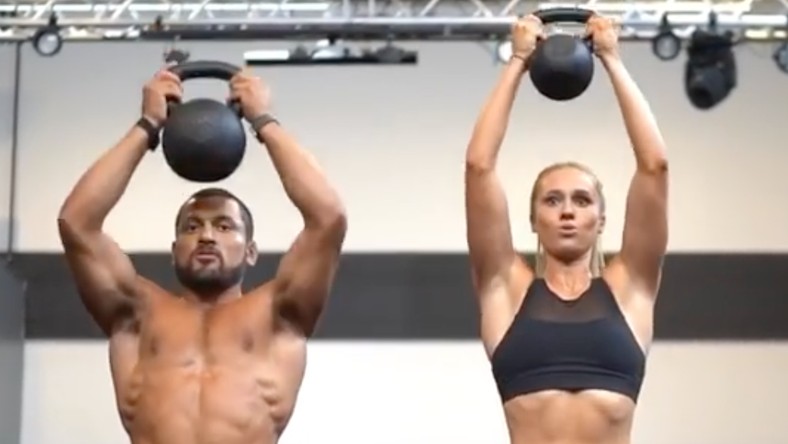 Trainers Eric Leija (a.k.a. Primal Swoledier  ) and Kelsey Heenan showed off this circuit that involves three dynamic, single-kettlebell moves that alternate body parts worked using a smart 3:2 work-to-rest ratio.
For the first move, Leija and Heenan perform a bent-over row, clean, and then goblet squat to overhead press. During each phase, they maintain total-body tension to help them maintain a solid, controlled cadence. Keep your core braced and lats squeezed to prevent your shoulders from rolling forward.
Speaking of shoulders: If you have any issues with yours, nix the overhead press and stick with the goblet squat. Also of note: Use an underhand grip during the kettlebell row to set your shoulders up in a comfortable, pain-free position.
For the second movement, a pushup with kettlebell drag, the name of the game is total-body tension. Focus on rowing your chest to the floor as opposed to dropping to the bottom of each rep. Set up with both your hands and feet wide to help you stay strong and balanced.
For the third move, an alternating kettlebell crown, move slowly, take your time, and keep your shoulders braced throughout. If you needed to skip the first moves press, it would likely be a good idea to skip this one, too, since it gets your shoulders back into that overhead, loaded position.
Perform each move for 30 seconds, rest for 60, and then repeat for a total of 5 sets.
Men's skincare should be straight forward and easy. There is no need for five-step peels or multiple layers of creams. Buy high quality, all natural products and your face will thank you (and the woman of your life will probably steal your products too).
The following men's skin care routine should be performed daily- most likely upon waking up and before going to bed. It's easy to follow and will guarantee a better looking complexion.
Men's Face Care
Cleanse
Splash warm water on your face or even better, take a shower to open up your pores to allow dirt out.
Apply a dime sized amount of men's face wash to your face, any more is just a waste of your hard earned dollars. DO NOT use soap as the vast majority contain chemicals that are too harsh for the face.
Lather up your face for 30 seconds with your face wash by lightly rubbing in a circular motion. Try not to pull down on the skin as you don't want to help gravity and expedite the natural occurrence of wrinkles/loose skin.
Rinse with cool water as this will shrink your pores, preventing new dirt and oil from entering.
Pat your face dry as rubbing your face encourages premature wrinkling from stretching the skin.
Avoid washing your face more than twice a day as this can cause unnecessary dryness.
You should also use a men's face scrub 1-2x a week to exfoliate your skin, which removes dead skin cells from clogging up pores and dulling your complexion. Also, avoid using face scrub more than twice a week as it can severely dry out your skin.
Moisturize
Moisturize your skin with a men's face moisturizer by adding a dime sized amount to your entire face. Hydrating your face keeps it generally looking good, prevents aging and wrinkles, and prevents excess oil production.
If you're worried about your forehead wrinkles and crows-feet around your eyes, a small amount of anti-aging cream can help smooth them out and tighten your skin. For even better results to repair and restore aging eyes, use an eye cream for men, as it will not only smooth wrinkles around the eyes, but reduce bags and puffiness. Want more anti – aging tips for men? Read our Top 5 Anti Aging Tips for Men and Top 3 Reasons to Use an Eye Cream for Men.
If you're going to be in the sun for an extended period of time (over 30 minutes), apply SPF30 or higher designed for the face to protect the skin from sun damage.
Men's Body Care
Like face care, men's body care starts with a hot shower, which opens up your pores, allowing dirt and bad oils to be easily excreted.
Bar Soap vs. Liquid Cleansers for Men
The choice to use bar soap or a body wash is purely preferential. If you have dry skin though, you should try a body wash as they usually have more moisturizers in them including Vitamin E, olive oil, and jojoba oil.
Body Moisturizers
Most guys don't use a body moisturizer and that's ok since many guys have oily skin. However, for guys who have dry skin or parts that are really dry, a men's body lotion is the perfect remedy. Apply the lotion immediately after showering to your skin and focus on areas that dry out the most, including elbows, knees, shoulders, lower legs, and hands.
Men's Hand Cream
Hands can be a unique body part for men as many professions and sports require frequent use of hands. Thus, guy's hands are susceptible to becoming dry, chapped, and cracked quite easily. The best men's hand lotion  should offer rich hydration, without a greasy feel.